What's new?
Welcome to the new www.cityofbathurst.com website. The site is based on my experience moving to and living in the country New South Wales City of Bathurst.

360° Panorama: Photography of Bathurst, New South Wales, Australia. As photography is a big part of my life I will continually add more to the Bathurst City 360° photographic panorama gallery.

Visit Bathurst:
Thinking of visiting Bathurst? Bathurst is only around 2 to 2 1/2 hours from Sydney, Australia heading west via the Blue Mountain's and Katoomba More...

Feedback/Comments:
Click here to send us feedback or contact us regarding this web site cityofbathurst.com

Welcome to the City of Bathurst NSW, Australia 2795
---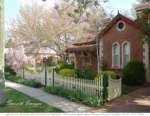 This site is very much under construction and is very new. I hope to be able to bring you the sites and relevant information about the City of Bathurst. Please feel free to contact me with any questions you may have about this website.

Bathurst is Australia's oldest inland settlement being discovered in 1813 by William Evans the shire "Evans Shire" being named after him. In 1815 Governor Lachlan Macquarie declared the site as a town and Bathurst was selected as the town name. The name Bathurst came from once Secretary of State for the Colonies, Lord Bathurst. Finally, the area was proclaimed a town in 1852 and incorporated as a municipality in 1862, Bathurst than become a city in 1885. Bathurst has many historic sites with heritage listed housing found right throughout the city. These houses are one of the major tourist attractions that people form all over the country and in fact the world come to see. The gardens of these houses project the passion the owners have for these magnificent restored homes built well over 100 years ago. The history of Bathurst cannot be understated. Being home to the famous Cobb & Co coaches and Australia's greatest Motoring sporting event the one thousand kilometre Bathurst 1000 (Sponsored by Super Cheap Auto) that is raced every October on Mt Panorama.

Once home to former Australian Prime Minister Ben Chifley (1945 to 1949) Born 22nd of September 1885. Chifley's house is also a tourist attraction. Still retaining period furniture and fittings it was donated by the Chifley family to the local community and is now set up a museum.
In short this site is just the start of things to come
I hope it is of some value to you and if you enjoy it please let me know. It might just spur me on the improve and add even more content. I love to share things that I'm passionate about and pleasing others is a great inspiration to show you around this great Australian country city.
- James Smoother
© Copyright 2005 - Smooth Images www.smoothimages.com Australia
ABN:74722948593